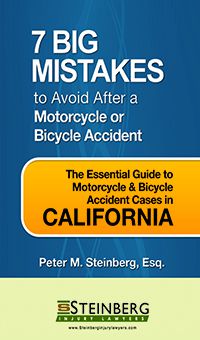 In "7 Big Mistakes to Avoid After a Motorcycle or Bicycle Accident", Los Angeles attorney Peter Steinberg sets down specific guidelines that cyclists should follow—safe rules of the road that may help prevent an accident in the first place. And he also identifies the costly mistakes that cyclists can make after an accident—mistakes that could jeopardize their ability to win an insurance settlement.

Steinberg's interest in cycling is not just from a legal perspective: he is himself an avid cyclist and has participated in numerous triathlons and long distance bicycle rides. Other members of his staff ride motorcycles and bicycles as well. Steinberg is the attorney sponsor for one of the largest triathlon clubs in the country. He has represented numerous motorcyclists and bicyclists involved in accidents.
Steinberg advises: "Read my book before you hire an attorney and before you talk to an insurance adjuster. You may not even need a lawyer to settle your claim.